Kyle Hollis is the true murderer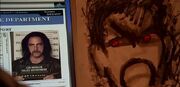 of the Seybolt family, the crime that
Crews
went to prison for.
Hollis went out of control and murdered Tom Seybolt, his wife and son, leaving only his daughter Rachel alive. When Crews finally tracked him down, he wishes to kill him, but instead tricks him into confessing to the crime.
Ad blocker interference detected!
Wikia is a free-to-use site that makes money from advertising. We have a modified experience for viewers using ad blockers

Wikia is not accessible if you've made further modifications. Remove the custom ad blocker rule(s) and the page will load as expected.