Mirror Ball
Season
Episode
2
14
Air date
February 11, 2009
Written by
Directed by
Prev
Next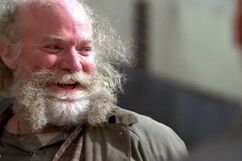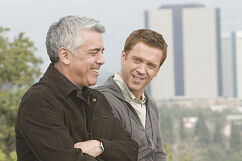 When the lead singer of a heavy metal cover band is suffocated to death, Crews and Reese are on the hunt to find the killer. Crews and Reese question the remaining band members and learn that the previous front man had a bone to pick with the now dead singer after he was kicked out of the band. They track down the former front man who seems to have a legitimate alibi and their lead goes cold. The investigation then takes an interesting turn when the detectives stumble across a homeless man who appears to be a groupie. Could this groupie have been responsible for the murder? Meanwhile, Crews learns his father's wedding to Olivia has been called off. [1]
This episode does not have a Synopsis yet, please add one!
Charlie pulls an Asian pear from the pocket of his suit and goes on to recite its other names. Dani has doubt on the name "papple", and he suggests "bapple" instead.
The girl whom Charlie gave his car to in "Fill it Up" returns the car (which revealed later in "Hit Me Baby" has in fact been bought back by Charlie). It has been painted over with flowers. As Charlie doesn't know how to respond, she asks him to say something. So Charlie goes "bapple" with a slight nod.
This episode does not have Quotes yet, please add one!
This episode does not have Notes yet, please add one!
Conspiracy Q & A
Edit
This episode does not have Conspiracy questions or answers yet, please add one!
This episode does not have a Cast listing yet, please add one!
Co-Starring
Edit
External Links
Edit
References
Edit
↑

NBC Press Release – February 11, 2009
Ad blocker interference detected!
Wikia is a free-to-use site that makes money from advertising. We have a modified experience for viewers using ad blockers

Wikia is not accessible if you've made further modifications. Remove the custom ad blocker rule(s) and the page will load as expected.