Jackpot
Season
Episode
2
7
Air date
November 5, 2008
Written by
Directed by
Prev
Next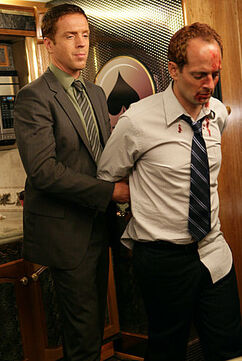 A woman is found in a pool of blood sitting at a table with a romantic dinner set for two. The investigation leads Crews and Reese to a support group for lottery winners full of eccentric characters. The detectives soon discover lottery winners often suffer broken psyches after suddenly becoming richer than they ever could have imagined. Meanwhile, Rachel refuses to tell Crews anything about her family's murder or about Jack Reese, however, the two unexpectedly realize they share a common bond.[1]
This episode does not have a Synopsis yet, please add one!
Charlie draws out an apple from his pocket and Dale asks if the apple helps him with the solving of crime. After the killer has been caught, Charlie offers an apple to Dale.
This episode does not have Quotes yet, please add one!
Erik Estrada (from CHIPs) makes a cameo in this episode.
Conspiracy Q & A
Edit
This episode does not have Conspiracy questions or answers yet, please add one!
This episode does not have a Cast listing yet, please add one!
Co-Starring
Edit
External Links
Edit
References
Edit
↑

NBC Press Release – November 5, 2008
Ad blocker interference detected!
Wikia is a free-to-use site that makes money from advertising. We have a modified experience for viewers using ad blockers

Wikia is not accessible if you've made further modifications. Remove the custom ad blocker rule(s) and the page will load as expected.