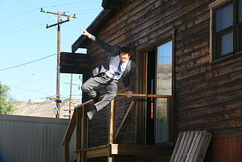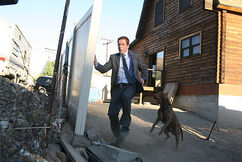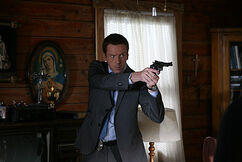 Charlie Crews and Dani Reese arrive on the scene shortly after a wife has shot and killed her husband. A search of their apartment reveals  a rather extensive indoor marijuana growing operation, but no murder weapon. Crews, working on his secret investigation of the events that led to his incarceration,uncovers something much bigger than he could have imagined. [1]
This episode does not have a Synopsis yet, please add one!
Charlie knifes and eats a pluot, a dapple dandy to be exact, which he grew himself, inside a storage room full of stacks of cartons of oranges, in front of a bound and duck-taped Hollis.
At the end of the episode, he sits with Dani on a flight of stairs and enjoys a fruit cocktail when he receives a phone call from Jack Reese.
Ted: Charlie, I am not Alfred, am I?
Charlie: Alfred?
Ted: You know...Batman and Alfred.
Charlie: No, no Ted, you are not Alfred.
Ted: I am not Higgins! Charlie, tell me I am not Higgins!
Michael Cudlitz reprises his role as Mark Rawls in this episode as Charlie's informant from inside the prison. He first appeared as an inmate whose son was killed in the pilot episode.
This was the last episode completed before the WGA strike that started on November 5, 2007.
Conspiracy Q & A
Edit
This episode does not have Conspiracy questions or answers yet, please add one!
Brooke Langton - Constance
Robin Weigert - Lt. Davis
Sarah Shahi - Dani Reese
Adam Arkin - Ted Earley
Damian Lewis - Charlie Crews
Brent Sexton - Bobby Starks
Co-Starring
Edit
Bob Rusch - Crooked Cop #2
Karen James - Woman from Animal Control
Fawn Irish - Dead Man's Wife
Jordan Marder - Cop #1
Celestin Cornelle - Cop #2
Jessy Schram - Rachael Seybolt/ Hollis
DeLon Howell - Crooked Cop #1
Titus Welliver - Kyle Hollis aka Orson Parker
Victor Rivers - Jack Reese
Brian Silverman - Paramedic
J. J. Booth - Admitting Nurse
Michael Cudlitz - Mark Rawls
Jennifer Siebel - Jennifer Conover
Ron Ransen - Hard Ass in Leathers
Carla Harvey - Bus Driver
Eben Ham - Sheriff
Jelly Howe - Pretty Girl Passenger
External Links
Edit
References
Edit
↑

NBC Press Release – December 5, 2007