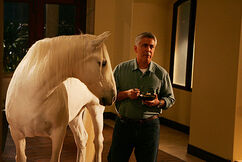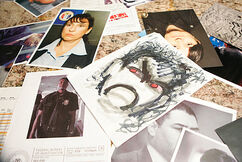 Charlie Crews and Dani Reese track the killer of a Zen Master who was buried alive ten years ago. After interviewing the Zen Master's former students, Crews and Reese find out this Zen Master's life was anything but tranquil. Could one of his former students be responsible for his death? Meanwhile, Crews uncovers incriminating evidence that Dani's father, Jack Reese, may have been involved in the murders for which Crews was imprisoned. [1]
This episode does not have a Synopsis yet, please add one!
An apple on his mouth while opening the door of his house to a... horse... which eats from Ted's bowl...
This episode does not have Quotes yet, please add one!
This episode does not have Notes yet, please add one!
Conspiracy Q & A
Edit
This episode does not have Conspiracy questions or answers yet, please add one!
Brooke Langton - Constance
Brent Sexton - Bobby Starks
Damian Lewis - Charlie Crews
Adam Arkin - Ted Early
Robin Weigert - Lt. Davis
Sarah Shahi - Dani Reese
Co-Starring
Edit
Jennifer Siebel - Jennifer Conover
Morann Peri - Pretty Orange Belt
Victor Rivers - Jack Reese
Matthew Leonard - Large Bouncer
Chandler Parker -
Fay Masterson - Amy Dujarardin
Jude Ciccolella - Luke Dujarardin
Roger Aaron Brown - Det. Carl Ames
Martin Grey - Mark Conover
Merdith Gangrande - Sherri
Erin Ross - Ginger
Andrew Thacher - Site Foreman
Brandon Inge - Alec Dujarardin
External Links
Edit
References
Edit
↑

NBC Press Release – December 3, 2007
Ad blocker interference detected!
Wikia is a free-to-use site that makes money from advertising. We have a modified experience for viewers using ad blockers

Wikia is not accessible if you've made further modifications. Remove the custom ad blocker rule(s) and the page will load as expected.