Serious Control Issues
Season
Episode
1
9
Air date
November 28, 2007
Written by
Laurie Arent
Directed by
Marcos Siega
Prev
Next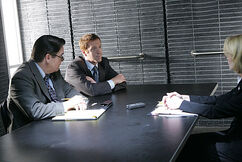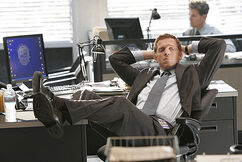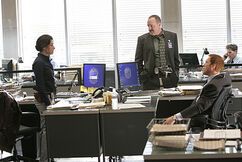 When a runaway girl is found dead underneath a freeway overpass, Detective Charlie Crews and Dani Reese are struck by the death scene. The girl is discovered sitting upright, clutching a guitar, with her throat slit. In the course of their investigation of the murder, they become highly suspicious of the behavior of one of the girl's friends and his father. They quickly discover that they must investigate not one crime, but two. Crews continues to work to protect himself from murder charges related to the death of retired Detective Carl Ames - one of the men who appears to be involved in the conspiracy that resulted in Crews' original incarceration.[1]
This episode does not have a Synopsis yet, please add one!
Charlie has a bag of oranges and he offers some to the friends of the murdered girl. Later he shows Dani a dwarf-sized "personal" pineapple in the station.
Crews: I was being serious. Why does nobody take me seriously?
This episode does not have Notes yet, please add one!
Conspiracy Q & A
Edit
This episode does not have Conspiracy questions or answers yet, please add one!
Damian Lewis - Charlie Crews
Sarah Shahi - Dani Reese
Adam Arkin - Ted Early
Robin Weigert - Lt. Davis
Brooke Langton - Constance
Brent Sexton - Bobby Starks
Co-Starring
Edit
Soren Fulton - Nate
Michael Gladis - Dean Gill
Victor Rivers - Jack Reese
Michael Harney - John Garrity
Joseph Lyle Taylor - Ray
Phyllis Lyons - Judith Raitt
External Links
Edit
References
Edit
↑

NBC Press Release – December 5, 2007