Farthingale
Season
Episode
1
8
Air date
November 14, 2007
Written by
Rand Ravich
Directed by
Peter Markle
Prev
Next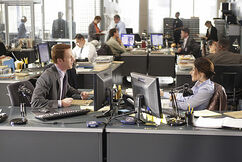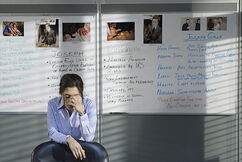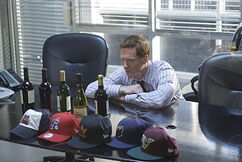 A gas explosion vaporizes a man's torso, leaving only half the body from the waist down. Was it an accident - or murder? Their investigation reveals that the man was an IRS agent living a complex life as a self-styled spy. Could this IRS agent's quest to become a hero have gotten him killed? Meanwhile Detective Carl Ames, who oversaw Crews' murder investigation 12 years ago, is found dead in the parking lot of the police station. Once again, Crews finds himself at the center of a murder investigation. [1]
This episode does not have a Synopsis yet, please add one!
Charlie eats a green apple in his car while he is watching Ames meet Jack Reese. He later eats a fruit cocktail while talking to Dani after they have met the two wives.
Charlie: How come you only call me when someone's dead?
Aimee Mann's cover of "One" is playing during the intro to the episode. Radiohead's "All I Need" is the song that plays as the episode is ending.
Conspiracy Q & A
Edit
This episode does not have Conspiracy questions or answers yet, please add one!
Co-Starring
Edit
External Links
Edit
References
Edit
↑

NBC Press Release – November 14, 2007