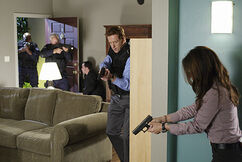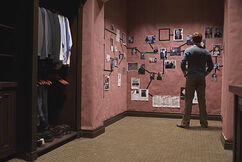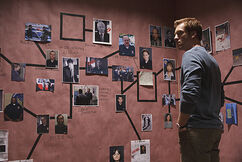 While attending one of her AA meetings, Dani Reese thinks she hears a fellow attendee confess to rape. Unable to let go of this information, and despite Crews' advice to drop it, Reese becomes preoccupied with the situation. As her fears that the man is about to repeat his crime increase, her persistence puts her face to face with a very dangerous man in a life threatening standoff. [1]
This episode does not have a Synopsis yet, please add one!
Charlie eats a plum when he talks to Dani about her AA meeting. A fruit cocktail can also be seen on the table when they are together in a cafeteria.
Charlie Crews: Every moment you spend wishing you were someplace else is a moment you can't get back
Dani Reese: What about every moment I wish you were someplace else?
---
Dani Reese: Focus on the words I'm actually saying
Charlie's screenname is "Mangoman" when he is in the chatroom looking for Nancy,
Conspiracy Q & A
Edit
This episode does not have Conspiracy questions or answers yet, please add one!
This episode does not have a Cast listing yet, please add one!
Co-Starring
Edit
External Links
Edit
References
Edit
↑

NBC Press Release – October 31, 2007