The Fallen Woman
Season
Episode
1
5
Air date
October 24, 2007
Written by
Rand Ravich
Directed by
Tony Wharmby
Prev
Next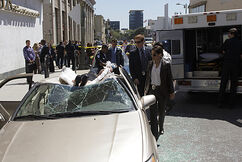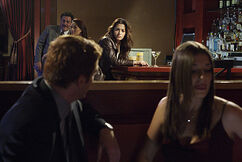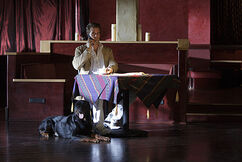 When a woman wearing angel wings falls to her death Detective Charlie Crews and Dani Reese must figure out if she was pushed or if she jumped. The spectacular nature of the crime results in the precinct offices being flooded by people trying to identify the woman. Amongst the crackpots and cranks and a bare handful of people looking for missing friends and relatives, they come across Jasper Willens, who identifies the angel as Lena Willens, his wife. Crews and Reese discover that their fallen angel was part of a scam targeting American men who marry Russian brides. They find themselves trying to track down the ringleader of the human trafficking organization that is running the scam, a Russian who appears to be untouchable. [1]
This episode does not have a Synopsis yet, please add one!
Charlie kills a green apple while waiting for Julia to start talking.
---
---
---
---
This episode does not have Notes yet, please add one!
Conspiracy Q & A
Edit
This episode does not have Conspiracy questions or answers yet, please add one!
This episode does not have a Cast listing yet, please add one!
Co-Starring
Edit
External Links
Edit
References
Edit
↑

NBC Press Release – October 24, 2007
Ad blocker interference detected!
Wikia is a free-to-use site that makes money from advertising. We have a modified experience for viewers using ad blockers

Wikia is not accessible if you've made further modifications. Remove the custom ad blocker rule(s) and the page will load as expected.