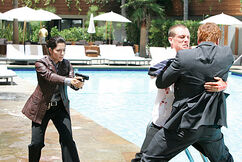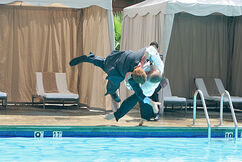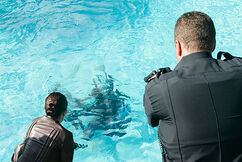 Detective Charlie Crews and Dani Reese search for the killer of a newlywed bride. The bride's husband is the number one suspect, however, despite the evidence stacking up against him, Crews has a gut feeling the husband is innocent. As a result, Crews is determined to do everything he can in order to keep an innocent man from going to prison for a crime he did not commit. Crews also revisits the scene of the crime which landed him in prison and makes a remarkable discovery. [1]
This episode does not have a Synopsis yet, please add one!
Charlie shows Dani a horned melon in the station and takes a green apple from a hotel lobby.
Crews: [laying out all of the wedding photos] It's all here... except the one thing that isn't here...
Reese: [to nearby officer] Do you know what that means? ... [to everyone] Does anybody know what that means?
This episode does not have Notes yet, please add one!
Conspiracy Q & A
Edit
This episode does not have Conspiracy questions or answers yet, please add one!
Co-Starring
Edit
Jennifer Siebel - Jennifer Conover.
Meredith Salenger - Leslie Stark.
Max Greenfield - Bradley.
Amanda Musso - Pretty Woman.
Liz Montgomery - Elena Silvers.
Caroline Macey - Molly.
Leena Huff - Tina.
Natalie Dreyfuss - Tiffany Sloan.
Roger Aaron Brown - Det. Carl Ames.
Ryan Locke - Jake Silvers.
Emerson Brooks - Forensic Tech.
Dave Michael Beaudrie - Cadet.
Stephen Burleigh - Alex Turner.
Nicole Fitzgerald - Stunning Young Woman.
Sharon D. Johnson - Detective.
Sonia Rockwell - Gina.
Cynthia Addai-Robinson - Stephanie.
Ed Ackerman - Mason.
Christina Hendricks - Olivia Canton.
Shawn Reaves - Eddie.
External Links
Edit
References
Edit
↑

NBC Press Release – October 3, 2007